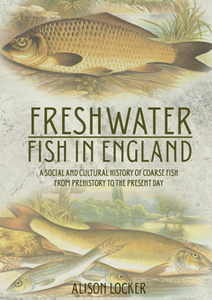 Freshwater Fish in England :
A Social and Cultural History of Coarse Fish From Prehistory to the Present Day
by Alison Locker
English | 2018 | ISBN: 1789251125 | 172 Pages | PDF | 25 MB
The first documentary evidence for freshwater angling in England appears in the Medieval period, revealing an established sport through an oral tradition. The arrival of the common carp, in the 14th century, marks a change in pond culture, it soon became the favorite fish. By the early modern period freshwater fish are in slow decline on the table, though landscape water features evolve in style. The popularity of angling is reflected in the growing commercialization of tackle and angling books initially marketed at gentlemen of means. The industrialization and urbanization of the 18th and 19th centuries created a new landless, 'working class' with whom coarse fishing became synonymous and came to represent a social divide with fly fishing viewed as more elite. Freshwater fish were never to revive as a table fish, but were ever popular as sport. Record carp have become the quest for many specimen anglers practicing catch-and-release, more prevalent in Britain than Europe. The development of coarse angling reflects social and cultural changes in society in England at many levels.